Georgia Women's Basketball sends Another to WNBA
Georgia Women's Basketball sends yet another player to the WNBA. This year it is Caliya Robinson.
Caliya Robinson is the next Lady Bulldog that will represent Georgia women's basketball team in the WNBA.
The Indiana Fever selected her in the third round of the 2019 WNBA Draft. Robinson was the 28th overall pick as well.
Robinson finished her senior year at Georgia this season. Her career at Georgia won't go unnoticed as she is second in Georgia women's basketball history with 292 career blocks. Robinson ranks ninth in rebounds with 874.
Another feat she had while wearing the red and black was scoring 1,000 career points have over 800 boards, and 200 blocked shots. She is one of five Lady Bulldogs to achieve this.
Robinson played in 120 games while at Georgia and scored in double-digits 79 times and double-digit boards 33 times.
Head coach Joni Taylor had this to say in the press release.
"We knew from the start that Caliya was going to be a special player. I am so happy for her and, more than anything, proud of the young lady she has become," Taylor said. "The Indiana Fever are getting a player whose potential is through the roof. She has all the skill you need to be successful at the next level, and all of us in the Lady Bulldog family look forward to cheering her on."
Robinson's versatility helped the Lady Bulldogs many times over the last four years, and she will be one of the most remembered players to wear red and black and the 'G.'
When Georgia had nothing left to give Robinson was there to pick her teammates up and help them find a spark.
"This is a dream come true. I want to thank the Indiana Fever organization for drafting me and putting their trust in me. I look forward to working tirelessly and becoming the absolute best player I can be at the next level," Robinson stated in the press release. "I also want to thank everyone here at the University of Georgia. From our coaches to my teammates, to the outstanding support system we have here — I would not be the player I am today without them. Being a Georgia Lady Bulldog is an honor I will take with me the rest of my life."
According to Georgia's press release, she is the 23rd Lady Bulldog to be drafted into the WNBA. That number is fourth among collegiate women's basketball. The Marietta native also was the 11th Lady Bulldog from the state of Georgia to be drafted.
Now she will take part in team tryouts over the next month and will look to earn a starting role at Indiana.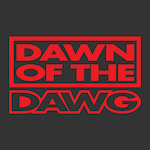 Want your voice heard? Join the Dawn Of The Dawg team!
Write for us!
Taylor and her staff developed Robinson into the player today, and she could be the next successful WNBA star for the Bulldogs. Robinson will be missed in Stegman Coliseum next year, but this next chapter should be a bright one for her.