Georgia Softball's Alyssa DiCarlo Named Finalist for USA Softball Player of the Year
Georgia softball's Alyssa DiCarlo is a finalist for of the best collegiate softball awards in the country.
Alyssa DiCarlo is the most recent Georgia softball player to be an award finalist. The senior has been named a top-26 finalist for the USA Softball Collegiate Player of the Year award.
This territory isn't new for DiCarlo as she was a finalist for the award last year with former teammate Cortni Emanuel.
Georgia has placed a student-athlete in the top 25 seven different years. The Bulldogs had one top-10 finalist in the history of the award, and that was back in 2009 when Alisa Goler made it.
Dicarlo is one of eight SEC players on the list.
This year has been a memorable one for the senior. After the South Carolina game, she has a .397 batting average and currently has 21 home runs, 54 RBI's and a .943 slugging average.
DiCarlo is fourth overall in home runs and slugging.
She's sixth in total bases with 133, ninth in walks per game at 0.90, 12th in on-base percentage, and 19th in runs-per-game averaging 1.08.
This season, she has destroyed three Georgia softball records. DiCarlo is No. 1 in Georgia career records for home runs with 65, RBI's with 245 and extra-base hits with 122.
She's four bases away at 520 from breaking the record of 523. DiCarlo tied for the fastest Bulldog to hit ten home runs at 21 games and was the quickest to bomb 20 this season at 41 games.
DiCarlo got drafted on April 15 as the fourth overall pick of the National Pro Fastpitch Draft to the Chicago Bandits.
She has become one of the best to wear the red and black and continues to impress every game. DiCarlo is the heart and soul of this team and a key player to the Dawgs success.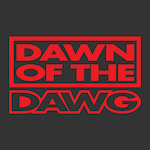 Want your voice heard? Join the Dawn Of The Dawg team!
Write for us!
Georgia could get it's next top-ten finalist in 2019 as the 26 finalists will narrow down to the top-ten on May 8. Then it'll narrow down to the Top-3 finalists on May 22. We will know the winner of the 2019 USA Softball Collegiate Player of the Year on May 28.