Georgia Football's Offensive Line, more like Eighth Wonder of the World
Georgia football's offensive line is one of the most impressive lists in the entire world of college football. It's so impressive it should be the 8th wonder of the world.
Georgia football should petition for its offensive line to be considered the 8th wonder of the world after the latest offensive lineman commitment.
Tate Ratledge made his decision on Monday, and he chose Georgia over Tennessee. The visit to G-Day seemed to have sealed the deal for the four-star tackle.
According to 247Sports, Ratledge ranks as the No. 39 overall player, No. 5 OT and the No. 6 player in Georgia.
He is what Georgia needs in its next great tackle. Ratledge is tall yet athletic and can move his feet well. He handles his 6-6 311-pound frame well. And he clocked a 5.42 40-yard dash at the Nike Opening Regional back in March.
Ratledge is likely another left tackle in the making with his athleticism and quickness he has. He pairs well with above average strength and can carry out blocks through the whistle. Should do well with both run and pass blocking.
He comes from Darlington School, a small school in Rome, GA. So the adjustment to a Power 5 university may be his biggest challenge. Once he gets the adjustment period over, he could push for some serious playing time.
However, if it wasn't for Sam Pittman, Ratledge might not have chosen Georgia over the Vols. In an interview with 247Sports, he told Rusty Mansell that it was where he wanted to be one day.
"It is really where I felt the most comfortable," Ratledge said to Mansell. "It was where I thought I could get to where I want to be one day with Coach (Sam) Pittman and everyone else there."
Sam Pittman does it again. He pulled in yet another top-ranked offensive lineman. Since he got the job in 2015, Pittman has gotten five 5-star and ten 4-star offensive linemen to commit and/or sign with the Bulldogs.
Those numbers include one five-star and two four-stars in the 2020 class, Broderick Jones, Ratledge and Akinola Ogunbiyl.
The average height for these monsters is 6-5, and the average weight is 320 pounds.
Andrew Thomas at left tackle, Solomon Kindley at left guard, Lamont Gaillard at center, Trey Hill at right guard, and Isaiah Wilson at right tackle were the starting line for Georgia in the Sugar Bowl. That version of the offensive line's combined weight was 1,633 pounds.
Now that's what I call the great wall of Dawgs.
Georgia's always managed to have a decent line in the past, but since Pittman's taken over, it has gone to a whole other level.
Pittman is unstoppable on the recruiting trail right now, and it wouldn't surprise me if he didn't add one or two more to this already talented 2020 OL class. Ratledge is the latest pickup for the coach, and there is no telling what is up his sleeve next.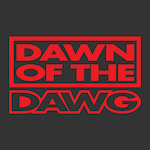 Want your voice heard? Join the Dawn Of The Dawg team!
Write for us!
The Bulldog's offensive line is tall and massive, and when opponents see that line, they're in awe. So if you adventure junkies want to see a wonder of the world and don't want to spend too much traveling, just stop on down in Athens, GA. You'll see General Fromm and first commander Swift protected by the eighth wonder of the world.
Ratledge's pledge gives Georgia nine commits for the 2020 class. The Bulldogs now have the No. 5 overall and the No. 3 SEC class with two 5-stars and seven 4-stars. Georgia average rating per commit is 94.4 as the Bulldogs look to close in on another No. 1 recruiting class.