Georgia Football loading up on defensive line for 2020 Class
Georgia football added another member to its 2020 recruiting class on Monday night as the Bulldogs add another defensive tackle.
Jalen Carter made commitment No. 10 for Georgia football's 2020 recruiting class. He is the third 4-star defensive tackle in this group joining Jamil Burroughs and Nazir Stackhouse.
Carter marks Georgia's third commitment and second 4-star for May. Mekhail Sherman committed on May 9 and Tate Ratledge on May 13.
According to 247Sports 2020 Composite rankings, Carter is currently the No. 95 overall player, the No. 10 DT, and the No. 12 player from Florida.
The Bulldogs now have three top-25 defensive tackles with Burroughs being No. 24 and Stackhouse No. 23.
He is the second player from Florida so far for the Dawgs joining four-star quarterback Carson Beck who is from Jacksonville, Florida.
Carter is from Apopka, Florida and attends Apopka High school.
If that sounds familiar, that's because 2019 linebacker Rian Davis went to school there as well.
Carter's latest visit to Athens was during G-Day. According to 247Sports, Georgia was on his mind since the first of his four trips to the Classic City.
"I knew it would be Georgia from the first visit," Carter said to 247Sports writer Kipp Adams. "Each visit got better and better. I have bonded with players, and I feel at home in Athens."
One of the Dawgs most significant needs in the 2020 class is defensive linemen and Carter is one big target. He's 6-4 and 301 pounds and looks like a grown man.
Carter chose the Bulldogs over Alabama and Clemson after releasing a top-3 on Sunday.
Georgia isn't done yet when it comes to defensive linemen. The Bulldogs are also interested in Jordan Burch, Eric Taylor, Zykeivous Walker, and others to fill those D-line needs.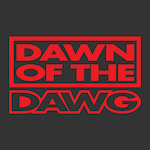 Want your voice heard? Join the Dawn Of The Dawg team!
Write for us!
With the latest pledge, Georgia is the No. 5 overall team and No. 3 SEC team in the rankings. The Bulldogs have ten members and have a 94.4 rating per commit.