Georgia Football: Offense ready to hit next gear in SEC Championship Game
Georgia football fans have had a lot to say about the Bulldogs' offense and whether or not they can move the ball against LSU in the SEC Championship Game.
First of all, you have to love what Georgia football head coach Kirby Smart had to say at his press conference today in regards to Georgia being in the SEC Championship Game.
" We did not back our way into this game. We earned our way into this game. We're looking forward to the opportunity to play in what is probably one of the greatest stages in all of college football."
He is right. Georgia did not luck into this game, they earned it. They were the best team in the SEC East and this is their reward.
Now, on to the offense.
Jake Fromm has not had his best season. Some have gone as far as wanting to get rid of him, which seems to be a bit much given his track record with the Bulldogs. Fromm is still one of the best quarterbacks in the country. According to SEC StatCat, Fromm is 194 of 313 completing 61.98 percent of his attempts for 2,383 yards, 21 touchdowns, and three interceptions.
When you factor in that 5.11 percent of Fromm's passes have been dropped or have been throwaways due to no one being opening, Fromm's completion percentage jumps up to 68.55.
Fromm is also having to throw into more "tight windows" than many quarterbacks because his receivers are not getting separation. Here is a comparison from Brent Rollins of PFF between Fromm and Burrows.
It's not all bad though, Kirby Smart talked about how Jake has grown with some of his receivers Monday at his press conference.
Kirby Smart on Fromm's confidence growing in Blaylock:
"I think (Fromm) likes Dom because he is constantly working. He's where he's supposed to be. He runs the right route. He runs it at the right depth. He and Dom have grown for sure."
Dominick Blaylock has been quietly getting better week after week. He has actually found the endzone in two of the last three games. Only Lawrence Cager and George Pickens have found the endzone on a more regular basis, Cager having a three-game streak having a touchdown in each game, earlier in the season.
Blaylock is not the only receiver to step up as of late. Tyler Simmons stepped up big in the Georgia Tech game in the absence of Cager and Pickens. According to SEC StatCat, Simmons pulled in three catches on four targets for 52 yards and a touchdown. He didn't stop there though, he added another 22 yards on two carries for a total of 74 yards on five touches.
Fromm was asked about the challenge Georgia's offense faces without Cager Saturday and without Pickens for the first half, here is Fromm's answer:
"I don't think it's a problem, it's more of an opportunity. It's an opportunity for guys to step up and make plays like we saw today. Tyler Simmons showed up and made a lot of spectacular plays."
D'Andre Swift is once again over the thousand-yard rushing mark, but the explosive runs, or runs over 10 yards, are down, so are the runs for first downs. Georgia had 107 explosive runs in 2018, in 2019 they have had just 76. The Bulldogs had 142 runs for a first down in 2018, in 2019 they have had just 112. That's a significant difference.
The wide receivers have got to block better in order for Georgia's offense to start clicking on all cylinders. On a positive note, Charlie Woerner and Eli Wolf are two of the best run-blocking tight ends you could ask for. They don't get a lot of credit because they are not used very often in the passing game, but they more than make up for it in the run game.
How about the Georgia offensive line? Many think that this offensive line is one of the best in the nation and that is hard to argue. Like any offensive line unit, they have strengths and areas where improvement could be seen.
According to Football Outsiders Georgia's offensive line is:
No. 17 in Line Yards per Carry
No. 3 in Standard Downs Line Yards
No. 115 in Passing Downs Line Yards
No. 13 in Opportunity Rate
No. 44 in Power Success Rate
No. 19 in Stuff Rate
No. 5 in Sack Rate
No. 9 in Standard Downs Sack Rate
No. 12 in Passing Downs Sack Rate
As you can see, Georgia has a very good offensive line, but perhaps not the very best in the nation, possibly falling somewhere within the top ten.
Even with its deficiencies, this offense has earned itself an SEC East title. So it's not all bad. Georgia just needs better execution on the field. That starts on the practice field and carries over to the game. Georgia fans should hope everyone is on the same page Saturday and that they execute to the best of their abilities.
LSU's defense looked great against Texas A&M this past weekend, but that could be a facade. Their body of work tells another story and one game does not make up for that even if it is the most recent one. It's clear LSU's defense can be exploited, especially in the running game, if the blocking is executed properly.
Lastly, here is what Tyler Simmons had to say about the offense and whether or not they have shown their whole hand this year:
Sounds like James Coley may have a few tricks up his sleeve he has been waiting to unleash this Saturday on the Tigers. Only time will tell. Whatever the game plan is the Dawgs need to execute if they expect to knock off the undefeated Tigers.
It's likely this game comes down to Georgia's offense moving the ball on LSU's defense. If Georgia can win the time of possession battle then the defense is more than capable of locking down LSU's offense. It is all on Georgia's offense to keep them rested and ready to go.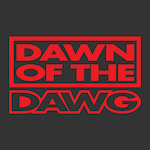 Want your voice heard? Join the Dawn Of The Dawg team!
Write for us!
Georgia is the underdog in this matchup, and that is just how they like it. They have played some of their best games with their backs against the wall. This game won't be any different.