Jake Fromm makes his decision, and Georgia fans have all the feelings
Georgia quarterback Jake Fromm has decided to forgo his senior season to enter the NFL Draft, and the Bulldog Nation is feeling it.
Jake Fromm has been a beloved member of the Bulldogs since stepping in for an injured Jacob Eason in the first game of 2017. Since then, he's become something special and has made his mark on the Georgia football program.
The question has been, would Jake stay for one more shot at a title, or start chasing the dream of playing in the NFL? The Georgia fan base has been consternating since the end of the Sugar Bowl, hoping for the best.
The long-awaited decision is in and Fromm announced it on Twitter with this tweet:
One of the greatest quarterbacks in Georgia history, Fromm ends his time in Athens ranked among the best:
No. 8 Most Passing Attempts – Career 597
No. 7 Most Passing Yards – Career 5,364
No. 1 Avg. Gain / Pass Attempt – Career 8.98
No. 4 Most Touchdown Passes – Career 54
No. 1 Passing Efficiency Rating – Career 165.79
No. 1 Completion Percentage – Career 63.3 percent
He led the Bulldogs to three wins over Florida, a signature win against Notre Dame on the road in his first start, a Rose Bowl win, a Sugar Bowl win, three straight SEC East Titles, an SEC Title, and nearly a National Championship.
Fromm just came off the worst season of his collegiate career. He completed 61 percent of his passes for 2860 yards, 24 touchdowns, and five interceptions. He also attempted more passes than he has in his career. His 385 attempts in 2019 are 78 more than his previous high of 307 in 2018.
The Georgia signal-caller attempted more passes per game in 2019 than in previous years. In 2017, when Georgia went to the National Championship Game, Fromm was attempting 19 passes per game. In 2018 he attempted 22 passed per game, pretty much the same pace. However, in 2019 that went up to 28 passes a game.
Fromm is a very good quarterback, there is no denying that, but with the extra workload, 2019 brought to light a few things he needs to work on.
He will get plenty of coaching at the next level to help him clean this up. Mainly just his feet he needs to work on. A lot of his throws sailed this year, but mainly due to his front leg not being in the proper position. It should be something that NFL coaches can iron out pretty simplistically.
It's likely that Fromm will go on the second day of the draft, mid-to-late second round. He would be a great fit for a team like New England or New Orleans, as he has the perfect skill set for those offenses.
This one is going to hurt Dawgnation, and that is understandable. Fromm's smile is infectious and it radiates in whatever room he walks into. He is an impossible person not to like and cheer for. He is definitely one of the good ones and Saturdays in Athens will not be the same.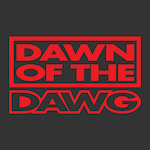 Want your voice heard? Join the Dawn Of The Dawg team!
Write for us!
Saying Fromm will be missed is an understatement. He is was of the best Damn Good Dawgs to come through Athens in a long time and the members of the Bulldog Nation wish him all the best. He will undoubtedly make Dawg fans proud at the next level, and they will be watching and cheering him on.
ALSO READ: An Open Letter to Jake Fromm 
Thanks for the memories Jake, we will never forget "The General."