Alyssa DiCarlo finishes Georgia softball career highly decorated
Alyssa DiCarlo will go down in Georgia Softball history as one of the most successful players on the field. She finishes her career as a Dawg, but heads to play professional softball next.
Georgia softball player, Alyssa DiCarlo continues to pull in award after award this season. At this point, we expect her to be highly decorated and winning things because she is that good on the softball field.
The NCAA College World Series Tournament is currently happening along with award announcements left and right.
While the Georgia softball team got eliminated in regional play, the Bulldogs continue to get accolades.
DiCarlo earned National Fastpitch Coaches Association (NFCA) Third Team All-America status on Wednesday in Oklahoma City.
She is a two-time All-American after DiCarlo earned third-team status in 2018 as well. However, this season, she finally received all the attention she deserved all four-years.
DiCarlo was a top-10 finalist for USA Softball Collegiate Player of the Year. According to Georgiadogs.com, she was also First Team All-SEC and NFCA First Team All-Region for 2019.
If the Bulldogs made a deep run in the NCAA Tournament, then I believe DiCarlo could have won the Player of the Year award.
However, that wasn't in the cards, so now she has to kill it in the pros.
In her final season as a Dawg, DiCarlo batted .381, hit 23 home runs, drove in 58 runs, putting a .899 slugging percentage together with a .470 on-base clip. She finished No. 4 in the country with her 23 homers and third in the SEC.
DiCarlo finished top-10 in NCAA in home runs, home runs per game averaging 0.38 a game, slugging percentage, and total bases with 151. She finished in the top 11 with her 0.84 walks per game.
In her four years as a Dawg, she held a .378 batting average, hit 68 home runs, 252 RBIs, 544 total bases, 128 extra-base hits, and collected 275 career hits.
DiCarlo rewrote Georgia softball's record books during her four years in the red and black.
According to Georgiadogs.com, the Glendale, Arizona native set new career marks for home runs, RBIs, total bases, and extra base hits. Her .378 batting averaged put her sixth all-time at Georgia.
DiCarlo finished top 10 at Georgia in 14 total statistical categories.
In the SEC, DiCarlo's 68 home runs finished second all-time, just three off Flordia Gator Lauren Haeger's record of 71. Her 252 RBIs finished fifth all-time in the SEC.
This past April, DiCarlo got drafted as the fourth-overall pick of the National Pro Fastpitch Draft by the Chicago Bandits.
When I began writing as a sports journalist, DiCarlo was one of the first players I interviewed and she made me feel welcomed and gave a great interview.
She was professional and that was a game she hit more than one home run in, so I knew right away that she would do great things. Here we are three years later and she's going down as one of the best like I knew she would.
DiCarlo proved so many times over the last four years that she was one of the best to wear the red and black.
Whether it was hyping her team up with Brittany Grey and others last season in the Bulldogs run to Oklahoma City, or being the senior leader this year, she did it to the best of her ability.
She will go down as my favorite softball Dawg, and I'm sad to see her leave. However, I will be getting me a Chicago Bandits jersey with her number on it.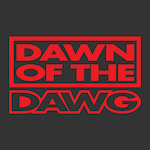 Want your voice heard? Join the Dawn Of The Dawg team!
Write for us!
DiCarlo will go down as one of Lu Harris-Champer's best players. Now she didn't win a national championship as a Dawg, but she gave a fighting effort and helped make Georgia stay relevant in a crazy competitive SEC softball league.
It won't surprise me if we see DiCarlo in the future as an assistant coach for Harris-Champer. She will be missed, but we at Dawn of the Dawg wish her all the best in Chicago.